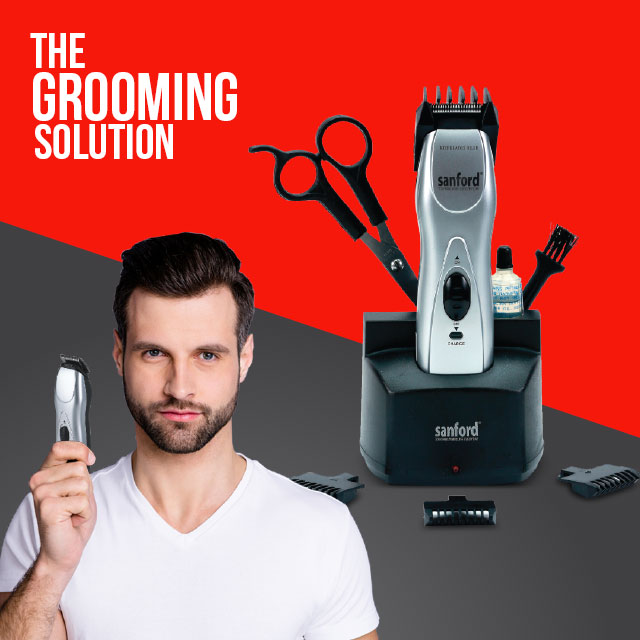 Planning to buy a grooming kit? We know it can be quite confusing! So here are some tips you will be glad we gave you
The other day, we received a message from one of our valued customers thanking us for the Sanford combo grooming kit (including hair clipper, nose and beard trimmer). He told us how he repeatedly ordered nearly 8 grooming kits online but nothing suited him, but in the end, the Sanford kit has given him the ease of grooming he has been looking for.
This got us thinking, may be many of our customers face similar issues - not knowing what kind of grooming kit to look for. Here are some thing to be mindful of while buying trimmers:
1. Quality comes first
Now, you want to pick a trimmer that lasts long while also giving you the results you need. Always look for a trimmer with stainless steel blades. Also look for good grip, so it doesn't slip and fall and cause accidental damage.
Depending on whether you have a plug point in your bathroom or not, you can pick a cordless or wired trimmer. If you are someone who travels a lot, a cordless unit would come very handy.
2. Long, short shave
Trimmers usually come with adjustable combs attached to them so they can trim different lengths. If you are someone who needs a close and clean shave, look for trimmers with minute shaving features. Also look for safety features so you dont cut yourself in the process.
3. Dry or wet process
Now, this depends on your routine. Do you clip before showering or after? Depending on that you may look for a wet or dry shaver. But if you can't make up your mind, no worries. There are units that offer both functions.
4. Your budget
Now, most trimmers come at a good price. If you go for the Sanford combo kit, you will also get a nose and beard trimmer with your hair clipper and it is a saving you will enjoy.
Now that we are done with the specifications for your grooming equipment, let us come to styling products. According to studies conducted by market research firm NPD Group, about 25 percent of men are using some form of facial skin care product. Whether it's facial wash, moisturizer, after shave lotion, or something as simple as lip balm, more men are choosing to invest in daily grooming routines. When you consider the number of men that also invest in hair products, you can imagine the percentage being even higher.
Average men's styling products include moisturizers and lotions. Why is it important for men to carefully choose grooming products? The answer is simple: ingredients. The majority of hair products, fragrances and skin care creams contain harmful chemicals that actually cause damage over time. Some skin care products advertised to moisturize and revitalize feel great at first, but users eventually find themselves experiencing skin irritation. Here are few things to look out for:
1. Avoid chemicals and alcohol
One of the major factors that you need to take into account before purchasing grooming products is making sure that it doesn't have alcohol. Alcohol severely dries up your skin and can also make it prone to scarring. In addition, you should also avoid products with menthol ingredients as they will make you insensitive from too much scrapping of the skin.
Here are some ingredients to definitely avoid when you buy products:
• Acetylated Lanolin
• Butyl Stearate
• Octyl Palmitate
• Dimethicone
• Cyclomethicone
• Sodium Lauryl
• Sodium Laureth Sulfate
• Parabens
• Sulfates
• Propylene Glycol (PG)
• Polyethylene Glycol (PEG)
2. Know your skin type
When it comes to buying men's grooming products online; make sure you find out what skin type you have. Generally, many products target different individual skin types, such as oily skin, acne-prone skin, dry skin, sensitive skin among many others.